CIMC ENRIC was established in 2004 and became one of the leading specialised gas equipment manufacturers and an integrated business solutions provider in the gas energy industry in China. The company was listed on the GEM board in 2005 and transferred to the main board since 2006.
The company is engaged in the design, development, manufacturing, engineering and sales, as well as provision of technical maintenance services for, a wide range of transportation, storage and processing equipment used in the energy, chemical and liquid food industries.
After long years spent in operating and developing their businesses, CIMC ENRIC has now acquired more than 10 brands, more than 20 member enterprises and 10000 employees, achieving annual revenue of RMB 10 billion since 2013.
Zhangjiagang CIMC Sanctum Cryogenic Equipment Co.,Ltd. is a key enterprise under CIMC ENRIC Holdings LTD (3899.HK). We are engaged in design, production, sales and technical service of cryogenic storage tank, lorry tanker, tank container and cryogenic thermal-insulating cylinder. Also we undertake construction as contractor for various projects like LNG/L-CNG vehicle refueling station, LNG vaporization station, mini scale LNG vaporization station, large-sized cryogenic storage tank, cluster tank, spherical tank and transportation, refueling, fuel storage tank and gas supply system.
We have got the manufacture license of pressure vessel type A3, C2,B4,D, GC1 level Pressure piping element installation license, "U", "S" and "T" stamp granted by ASME .Company approval of marine tank from CCS, BV, DNV, LRs, RINA for marine tank. We also obtain the qualification certificates as PED, TPED and E-MARK, which lays a solid foundation for entering the international market. CIMC Sanctum is the "Key high-tech enterprise of National Torch Plan", "High and new technology enterprise of Jiangsu province", and certified as "National post-doctoral scientific research workstation", "Technology center of Jiangsu province". It has passed ISO9001/IATF16949 quality management system certification, ISO14001 environmental protection system certification and GB/ T45001 occupational health and safety management system certification.
Qualifications & Certificates: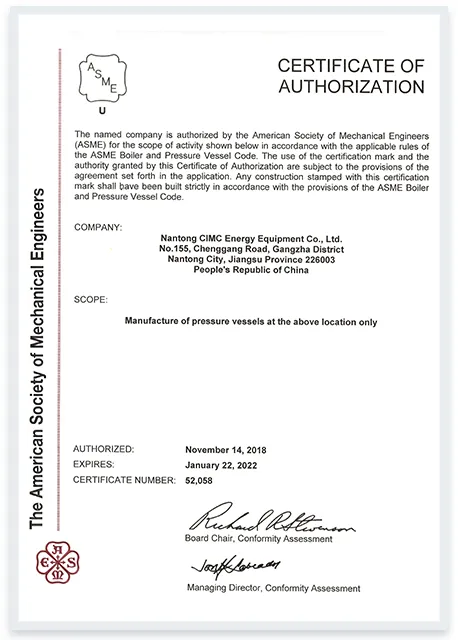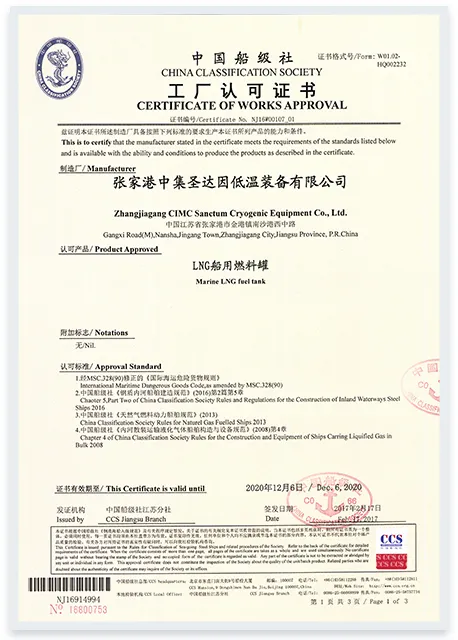 If you are in need, you can contact us!
The contact email is cimcenricenergy@gmail.com.